Bespoke Helmet Design
HANDMADE WITH 100% PASSION
ANY HELMET. ANY HELMET TYPE.
Beside the endless opportunities with our 3D product configurator we're offering the possibility to realize your individual helmet design. Regardless which brand or helmet type, our team of designers and customization specialists will work on your custom helmet design based on your individual design wishes. For this service please contact us via mail at service@helmade.com and send us pictures of your existing or newly bought helmet plus your rough design idea. Then we'll get in touch with you and consult you on the options we have to add your very own style to your helmet. If you are searching for a helmet, we are offering almost any brand and can help you to find the right one. Based on our rich experiences working for major helmet brands, you can be sure we'll be able to bring to life your own custom helmet in the highest quality possible. We're able to work onto already matte or glossy painted helmets as well as carbon surfaces.
Our team of custom painters is aiming for perfection in every custom helmet paintwork we realize in our space in Frankfurt am Main (Germany). We are about individual helmets of any kind. Custom helmet design shouldn't be something for a few. That's why we're on a mission to make custom helmet design more accessible for the many individual racers out there.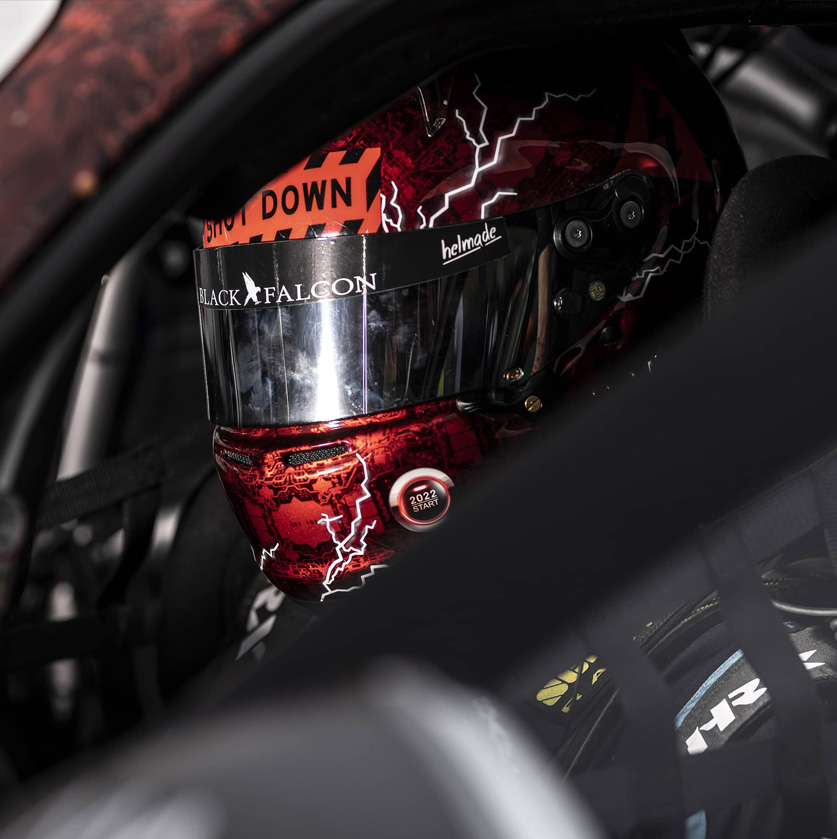 What makes a custom helmade helmet so different from other helmets you can buy, is the handmade process behind it. Each and every custom helmet is handpainted. Painting a helmet requires rich experiences in custom painting, high-quality lacquers/materials and unique handcrafting skills. helmade stands for custom helmet design and true passion for handmade quality.
CUSTOMIZED IN GERMANY
Our helmade Office and Production space is based in Frankfurt am Main (Germany). There you can find our design studio and our painting facilities. That's where the magic happens and where we think about the future of custom helmet design. If you're nearby or get the chance to visit us in Frankfurt, we'd love to welcome you in our helmade Showroom & Store where we showcase custom helmets and consult you on color and design options. Additionally we're offering a fine selection of helmet brands which you can directly buy, custom or non-custom.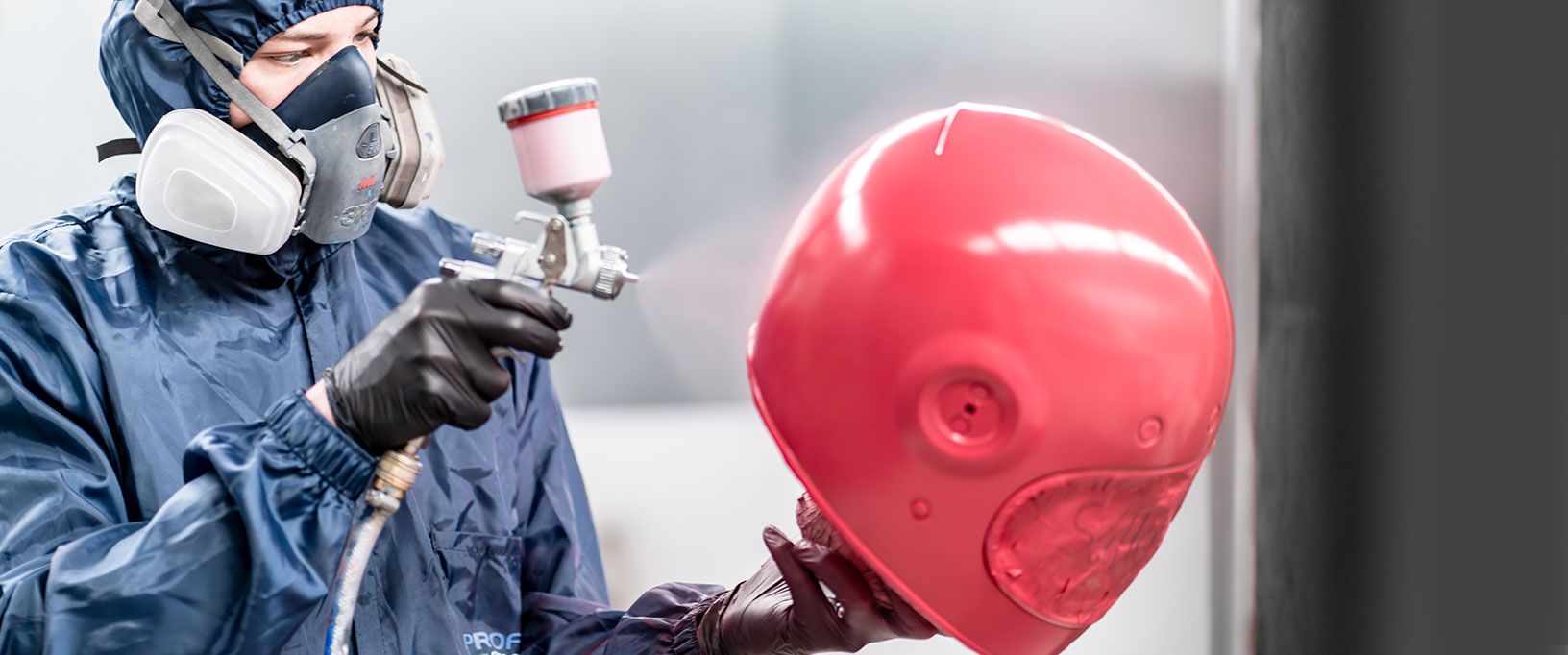 PAINTING
Every detail is masked and applied by hand to reach a level of 100% accuracy.
B2B PROJECTS
If you are a helmet manufacturer, brand or corporate, we're experienced in bringing to life custom helmet designs as limited editions. Regardless if you're asking for one unique piece or a series of custom helmets, we're the right partner to work on such a project, reliable and professional. As your customization partner we're aligning on the base product to work with, the surface to work on, your design wishes and a guaranteed production timeline. You'll be profiting from our years of experience working as a customization partner for brands like Arai, Bell, Stilo, Shoei, Nolan and many others. Just send us your request via mail at
service@helmade.com
and we'll discuss the best possible options to realize your custom project.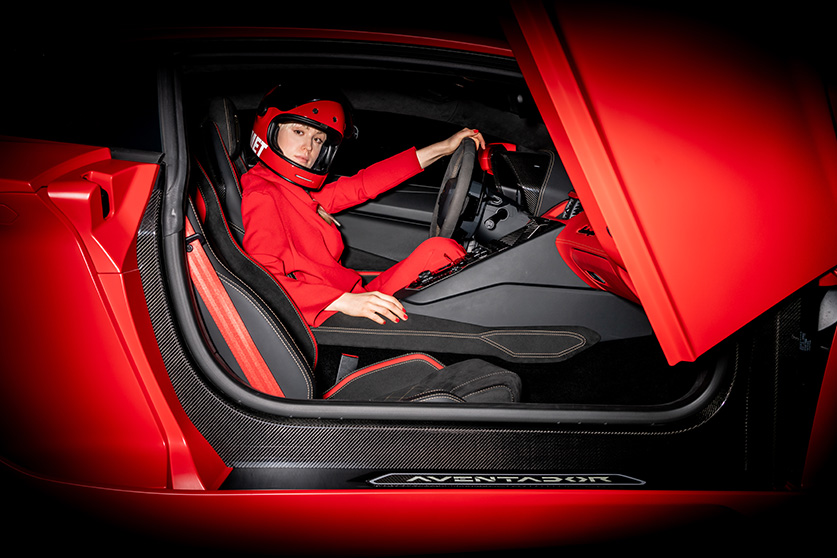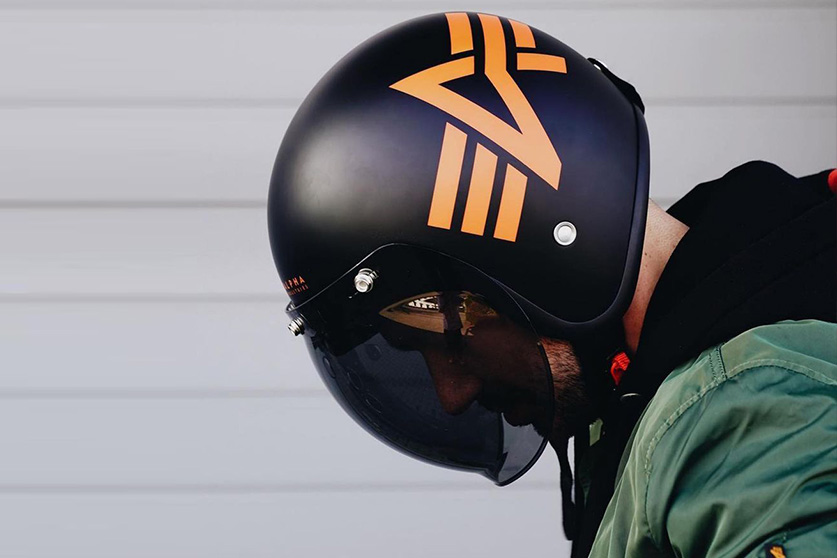 ATHLETES & INFLUENCERS
Over years we have painted many custom helmets for athletes or influencers. We are able to feedback on existing design wishes or come up with an outstanding design which you have never seen before. Meanwhile we have painted custom helmtes for top motorsports and cycling athletes, high profile customers as Tom Cruise, Ryan Reynolds, Arnold Schwarzenegger, Didier Drogba. Tom Hiddleston and many more.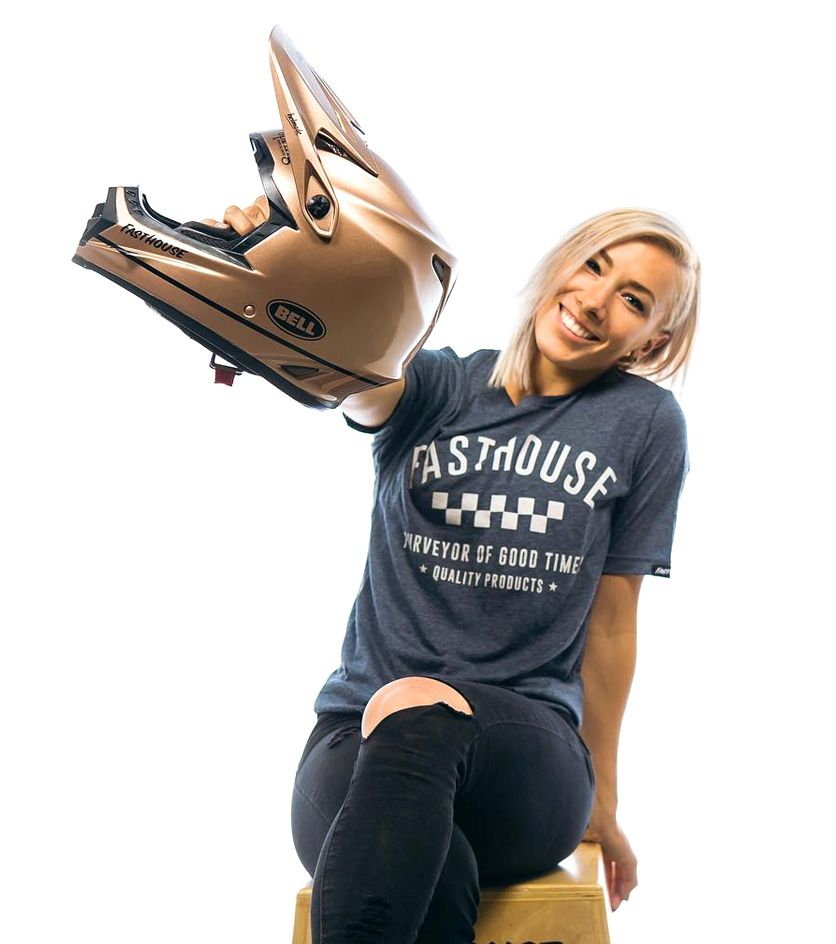 Gone rose gold for Caroline Buchanan. This custom helmet was created for the Australian Olympian and 8times BMX & Mountainbike World Champ. An unseen color let this custom helmet design stand out from the crowd.
If you're a brand which is supporting athletes, a custom helmet can make the difference. Based on our experiences in working with athletes from various categories we're able to take over the communication with the athlete and agree on a design based on your corporate identity. Feel free to contact us via mail at
service@helmade.com
and we'll talk about your next custom helmet collaboration.
…WITH PASSION!

Follow us on Social
Become part of the helmade community and follow us on Social where we constantly share our work and talk about new projects coming up. We'd be more than happy to get your support.