UPB Racing - Helmet design for the next generation of Formula 1 engineers
True teamspirit, expressed in a helmade design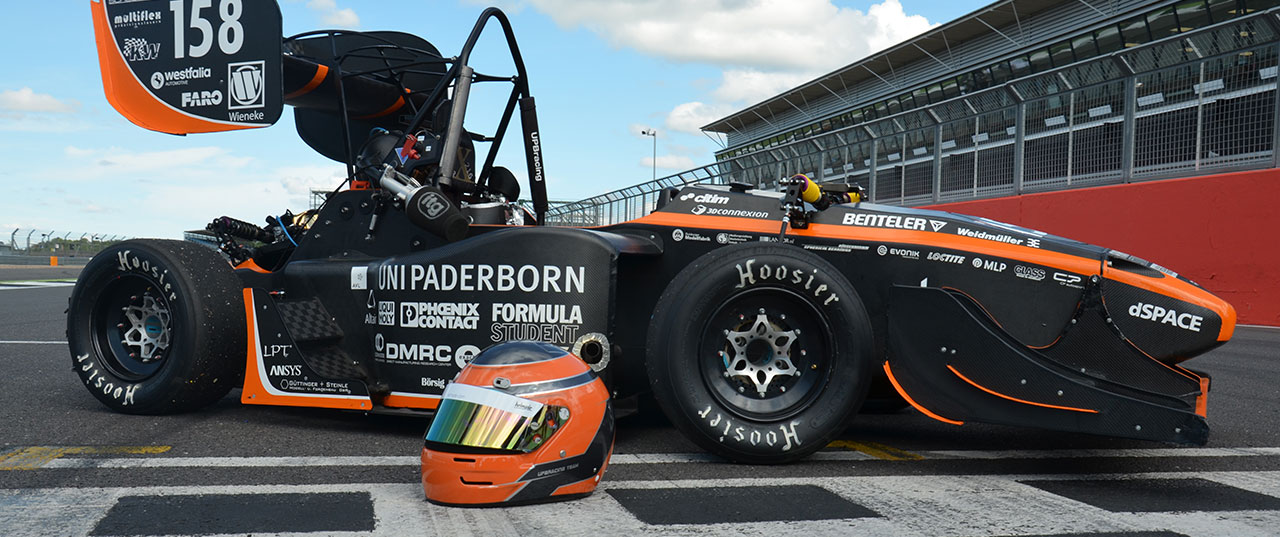 Since the beginning of motorized locomotion all major developments around automotive technology were born on race tracks of this world. Regardless if safety, driving behaviour or engine power, it were the passionate motorsports people as mechanics, tinkerer and race drivers who fought about each milisecond and every single gram to make their racing cars faster, easier to control and at the end better and more efficient. Nothing is too crazy and everything is possible. For that reason even abstruse technical concepts, as an airscrew powered or a three axes F1 car, made it into the starting grid. We at helmade love walking new ways and this spirit to explore is part of our DNA which led us to support the young team of engineers at University Paderborn, our hometown.
In the last corner of an industrial area, a non-shining buidling owned by the University Paderborn which was a former hardware store, there it is... The coolest workshop in town. The home of UPB Racing. A union of students from different fields at University Paderborn which share a true passion for motorsports and a unruly willingness to perfection. Team UPB Racing is part of the Formula Student, an international universtity competition of constructing a monocok-race car from scratch and compete in several disciplines. The construction is tested in all dimensions. Those are special needs for a race car as driving behaviour in corners or the royal discipline endurance testing.
Every year there are events around the world and this young fresh approach to motorsports is gaining more and more recognition and fans. A well deserved development. When it comes to professionalism and development process the team from Paderborn is definitely not behind the big race teams and role models of Formula racing. Many of the race car parts were constructed in the UPB workshop using a 3D program and then, with much sweat and CPU power, optimized when it comes to aerodynamic, rigidity and leight weight. In many cases local companies support with raw material and access to professional production technologies so that the team can produce the best possible parts and get them onto the race track.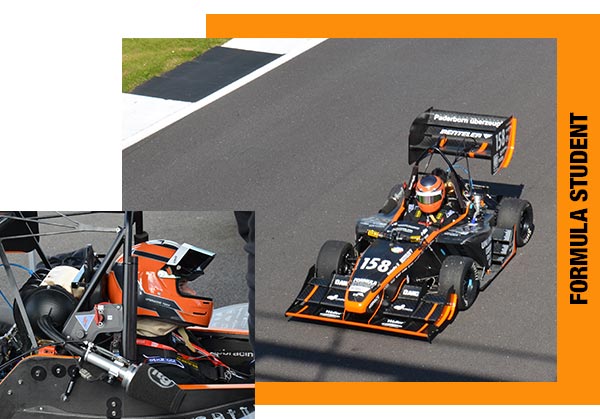 Also essential for the Formula Student concept is the economical part. In principle team UPB Racing is organized and managed as a classic racing team. This part is an important criteria to proof the economics, to monitor the costs for each technical part of the development and construction and manage productivity in a professional way. Additionally the team has to develop and present a strong business plan to win new sponsors and to positively impact their rankings.
Vivien Timm, Second Chairwoman of the team thinks the concept behind Formula Student is in the same way unique than the passion of the team working together to succeed together. "We are here in our workshop 24 hours, 7 days a week. That happens on top of our study, the classes and exams. This time is not officially counting as time we have to spend in classes. Everyone joining our team brings in true passion and the mix of organization, economics and, of course, the technical development part perfectly simulates an entire company. There's no better way to prepare for a professional career in this industry."
Their efforts are paying off. Series of photographies in the UPB workshop showcase in an impressive way the team development of the last years. From a technological perspective but also from representation of the team itself. Over years UPB Racing has become a brand and a real company. From an own logo to a website, not stopping at the branded coffee cup, all styled in UPB Racing CI. Only their helmet stayed white which we, of course, had to change.
helmade Design Speed for UPB Racing
The design Speed represents the basic skill of every good race driver: Speed. This helmet design is a more simple design out of our motorsports design line which was created together with helmet designer Paul Seliger from Five Star Designs.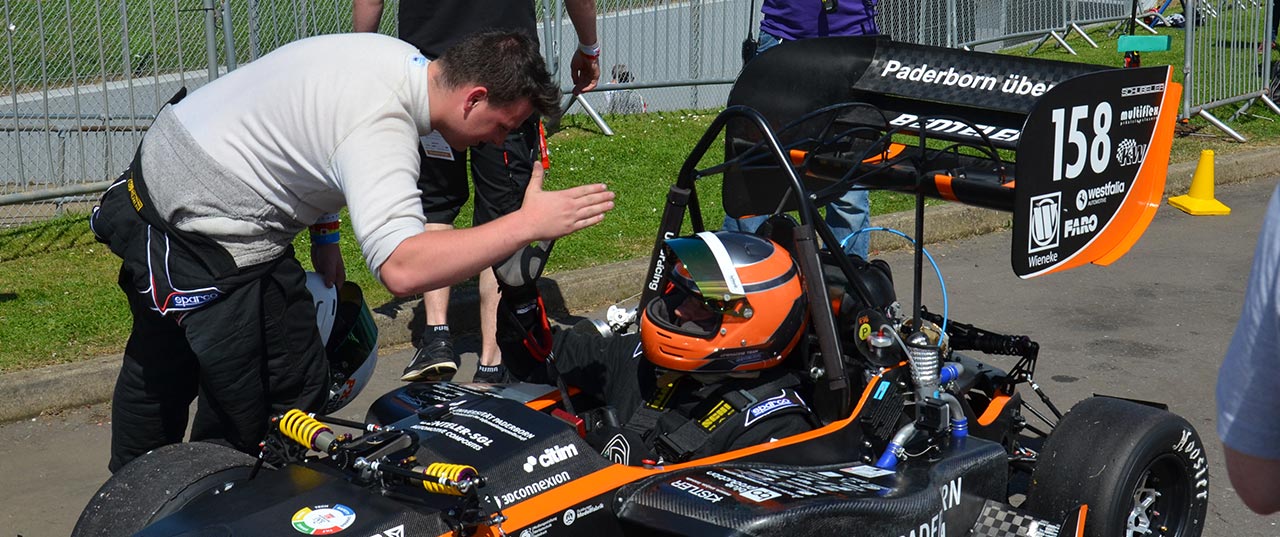 "Helmet design hasn't been yet arrived in Formula Student. There are only a few teams with painted helmets. They're clearly an exception." Vivien Timm is commenting on this fact: "For that reason we were more than happy when helmade contacted us to offer us their support in this super interesting and creative field. From the very first communication to the actual design process using the online configurator and the unboxing of our new helmet, it was an awesome experience. Everyone at UPB Racing is impressed about the quality and the handcrafting skills behind the product. A great job!!"
The passion of UPB Racing shows off in the results of this years season. At the first Formula Student event on the traditional race track in Silverstone UPB Racing could finish, based on top results in statics and endurance, on 12th place of all teams. A result to build on for the rest of the season. Followed by a top result in Hungary with a 6th place. The best result ever in UPB Racing's history. Also at the final event in Hockenheim the team could be successful and finish the season with a 12th place in total from 107 participating universities from around the world.
We are proud about the record season of the young guns of Formula Racing and we're already keeping our fingers crossed for 2017 season of UPB Racing.
...with passion!