helmade for Glemseck 101 - Official helmet design of 2017
helmade creates first official helmet design for the Glemseck 101 motorcycle festival
After our first and successful participation at the 101 last year, we proudly present the official helmet design 2017 celebrating the 12th round of Glemseck 101, one of the coolest motorcycle festivals in Europe. Together with team 101 and our partner Bell Powersports we came up with a pure and straightforward design that represents a unique motorcycle festival and the legendary sprint races on the former Solitude race track in Leonberg, near Stuttgart / Germany.
After our inofficial homage to the spirit of the 101 in 2016, the idea of the first official helmet design was born and we started working on the design.
The design represents the myth of the 1/8 mile and the foolhardy racemen and meanwhile more and more racewomen, who dueling on crazy custom built machines. Glemseck 101 became one the highlights on the agenda of any motorcycle fan and wins more and more fans year on year. What was missing at such an event was an official helmet design. That we've changed now.
This year the helmade x Glemseck 101 helmet design is not limited and can be designed by you in your individual style - online in our 3D configurator.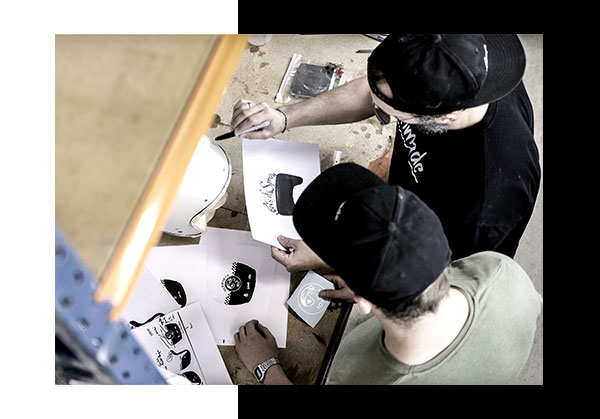 The first two helmade x Glemseck 101 prototypes were brought to life on a Bell Custom 500 open face helmet, supported by Bell Powersports Deutschland. helmade and Bell share a true passion for racing and we are super happy that we were able to continue the great partnership from last years event.
Additional highlights shown at this years Glemseck 101, are a helmet design special for the sprint racing series Essenza 'The Essence of Motorcycles' and a collaboration with V-Engine custom builder Vengine, who has created a bike solely for the 101. You will be able to meet all these hightlights and of course our team from September 1st to 3rd 2017 at Glemseck 101. We are looking forward to see you there
...with passion ;)