Fresh designs for the Bell Moto-3 in collaboration with 1down4up.net
A unique style on a unique helmet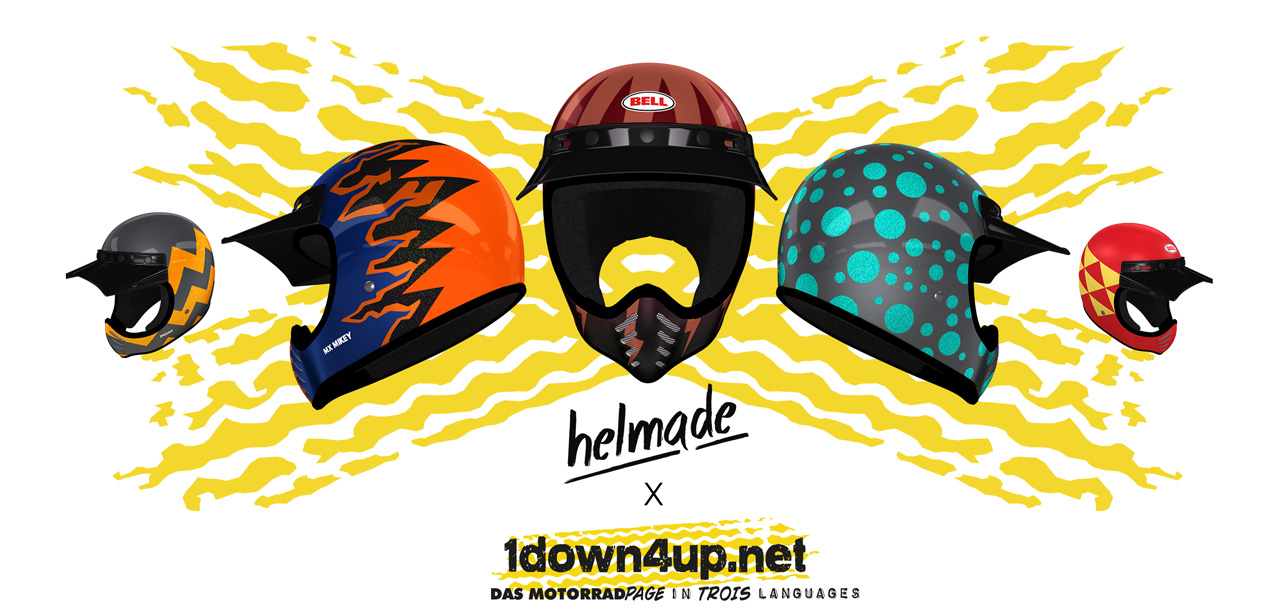 Together with the man behind the international motorcycle blog 1down4up.net we came up with a new design series for the legendary Bell Moto-3 vintage motocross helmet. When we first connected with Steve Marquis the founder of 1down4up.net at Glemseck 101 last year we immediately realized that we share a passion for helmet design. Steve has brought to life a website which talks about motorcycles in core and with that he is always searching for exciting news about products that you need to ride - a stylish helmet is definitely such a must-have.

Working with Steve on new designs for the Bell Moto-3 we have experimented with modern patterns and classic design elements as flames or dots. All designs express a very own style to stand out from the crowd, driven by the fact that a helmet is by far more than pure protection. Our main goal was to create a unique style on a unique helmet. The Bell Moto-3 has it all. Inspired by the old days of MX racing Bell has come up with a modern classic which stands out. Bell stayed true to their original and iconic Moto-3 helmet shape.
helmade x 1down4up Bell Moto-3 Zigzag
The helmade Bell Moto-3 design Zigzag is a bold statement bringing a classic pattern beautifully onto the helmet shape. Choose extreme effect colors to go wild or take it easy with a combination of vintage colors.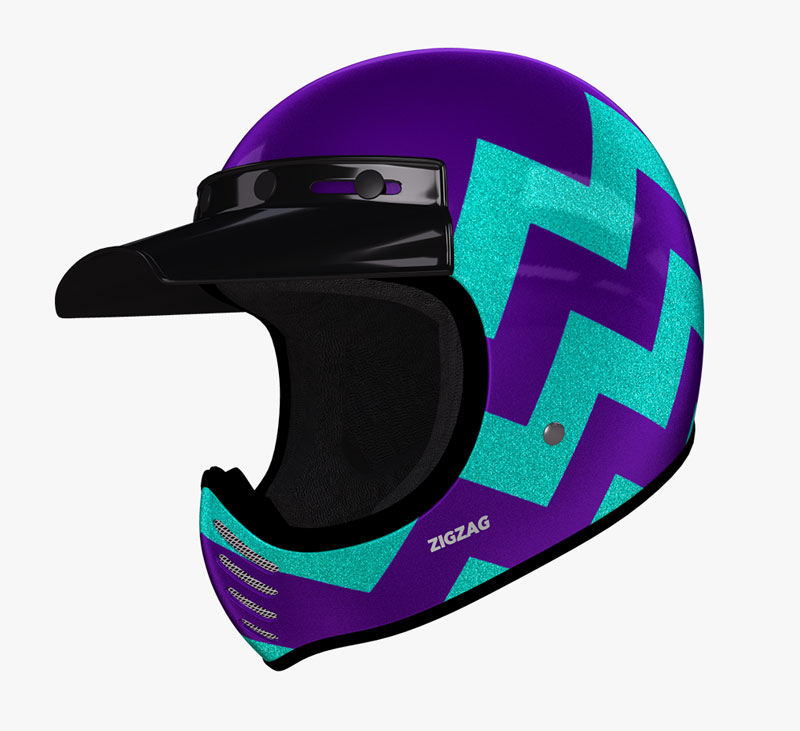 helmade x 1down4up Bell Moto-3 Flame
The flame - what else to say? Rock your bike in style choosing this loud design on the Bell Moto-3. From the classic 'hell rider' to a 'soft rocker' - you decide. All design elements are masked and hand-painted with all our passion.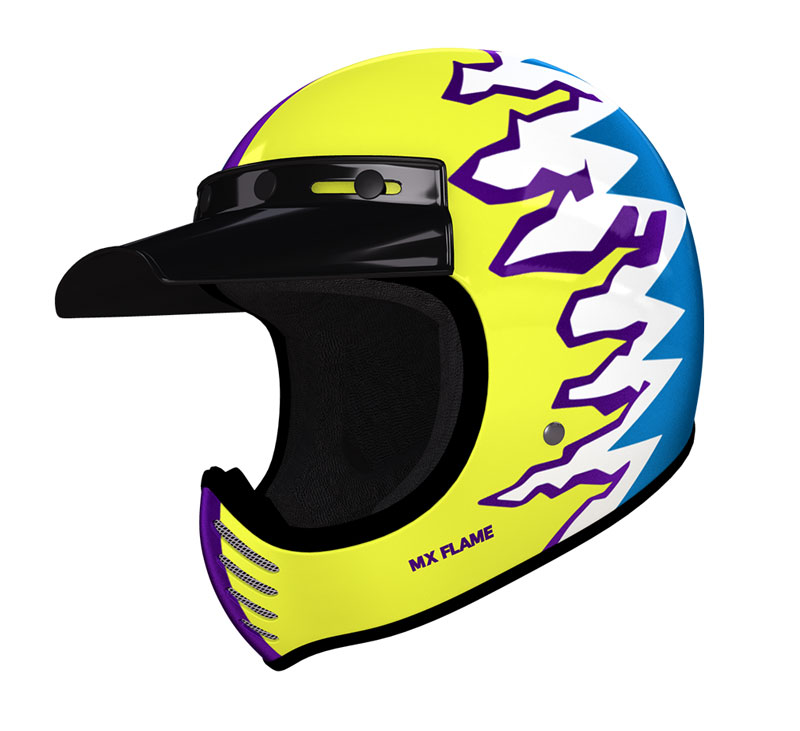 helmade x 1down4up Bell Moto-3 Thunder
'Days of Thunder' you will experience with this new helmet design for the Bell Moto-3 vintage motocross helmet. Definitely a way to stand out from the crowd and to bring your very own style onto the streets.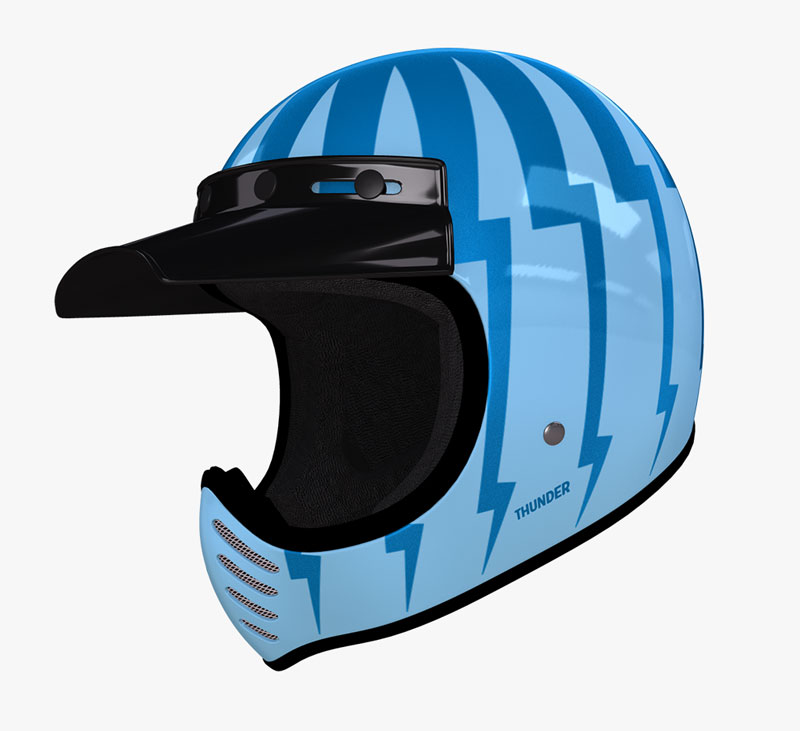 helmade x 1down4up Bell Moto-3 Dots
Dots, dots, dots. Craziness brought onto the Bell Moto-3 with this fresh helmet design. For those who want to make a difference and who get not use to laugh out loud.
helmade x 1down4up Bell Moto-3 Delta
Iconic pattern on an iconic helmet shape. This abstract design for the Bell Moto-3 is different to what-ever you've seen before. Choose your favorite colors and add your personal signature to make it yours.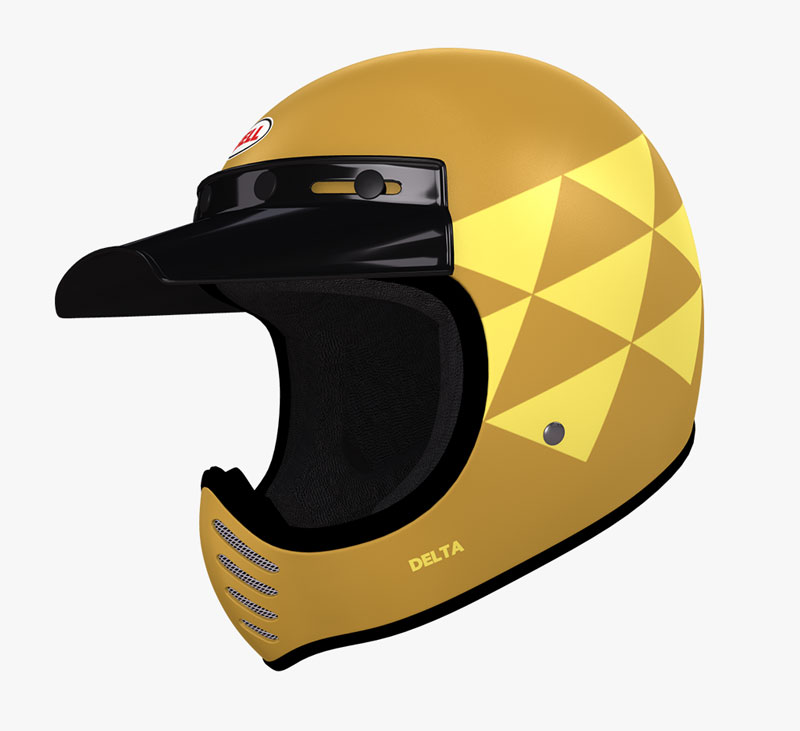 We can't wait to see one of these designs rocked on the streets of this world. The future of helmade means to envision the future of helmet design and to revolutionize the way you buy a new helmet. We're still at the beginning of an exciting journey of interacting with race athletes and bikers, collaborating with helmet designers and creative people from various fields to activate our imaginations and influence our direction as a young start-up. We are proud about our collaboration with 1down4up.net and look forward to continue this partnership in the future.
ABOUT STEVE
For many years now, Steve was roaming around on several websites and blogs about custom bikes and reads heaps of international motorcycle magazines every month. While doing so, he often noticed that, although knowing each other and sometimes even meeting each other, different national scenes often do, mainly due to linguistic divide, their own thing. Thanks to his multilingualism, Steve was able to bring together the best stories, cool people and authentic scenes on 1down4up.net.