Black Falcon Porsche GT4 VLN Pilot Fidel Leib in helmade Style
Unusual racer meets unusual helmet design concept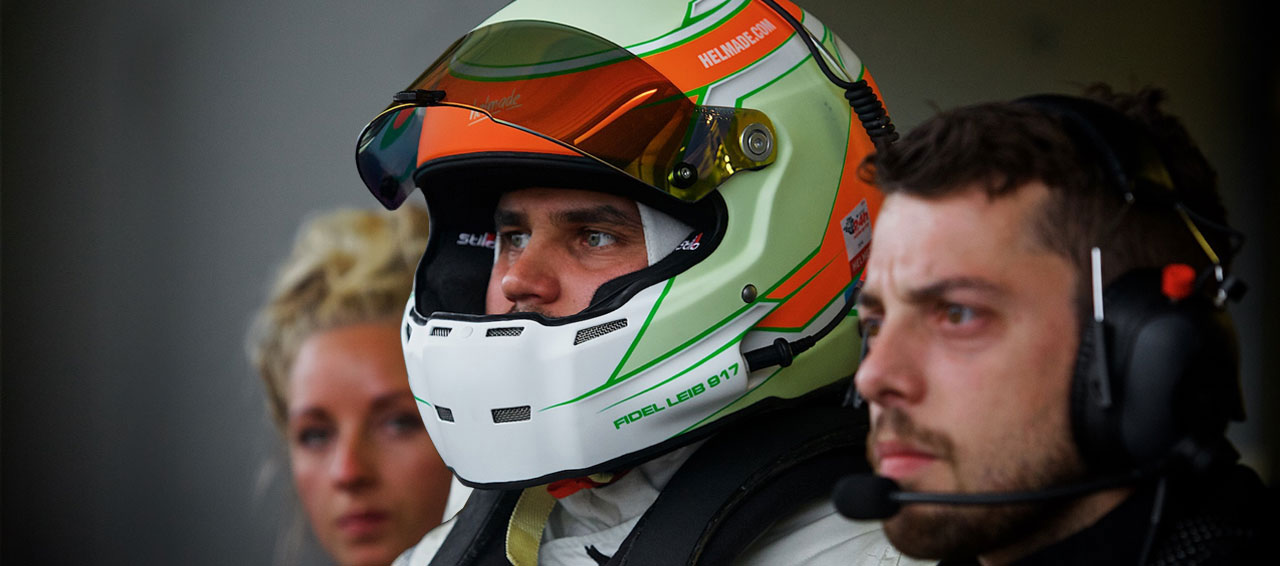 With Fidel Leib we have our first driver wearing a helmade helmet design during the VLN series in team Black Falcon. His story is unique. Fidel Leib, born 17th of April 1988 in Lindenberg, racing the VLN long distance championship at the Nürburgring, makes his dream come true. His way to get there wasn't that smooth. There's a true passion for racing which unites Fidel and us.
Between 1996 and 2004 Fidel gathered his first race experiences in karting - for him the 'most honest' part of motorsports - and set the base to compete in professional car racing. To reach this goal he had to wait till 2012, his first season racing the Porsche Sports Cup. Impressive that to make this possible, he on his own started to find sponsors in a quite unusual way. For him it was clear from the beginning that he was never able to find a few big sponsors but many smaller ones who were willing to support him. That's why he contacted more than 800 potential sponsors in person to finally land on 8. Most of them are still supporting Fidel today.
Till 2014 he competed for three years in the Porsche Sports Cup, tested Formula BMW, had a successful talent scouting by Volkswagen for the Scirocco R Cup, learned a racing cars on many different race tracks.
The last two years Fidel has a place in the VLN, long distance championship on the Nürburgring, racing a Porsche Cayman PRO4 team at team PROsport Performance. A very special challenge for him as for most drivers the Nürburgring is the most beautiful, difficult and dangerous race track of the world. For that reason he joins every single second in his car on the Nordschleife.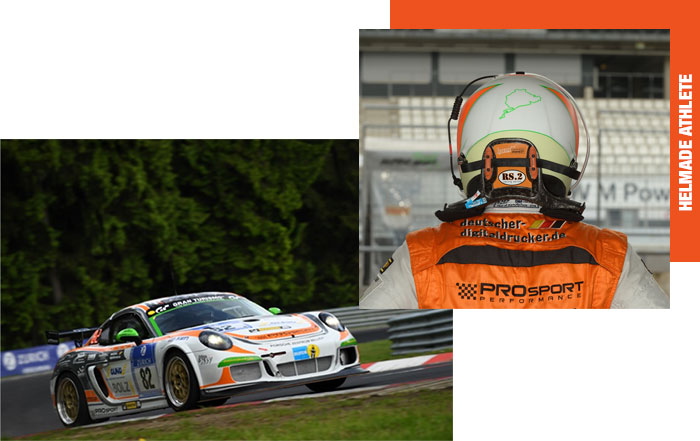 For this years 24hrs race Fidel decided for a new helmade design. He has chosen some unusual colors that represent his unusual way as a race driver. Orange and Green Neon combined with Cuba Lime Green is not that normal and an expressive choice that stands out. For him a lacquered helmet is very important and a way to express the personality of a driver. To make his helmet design even more unique he requested to have the Nordschleife as a silhouette logo lacquered in on the back of his existing Stilo helmet. Of course we made this happen for him.

Fidel Leib about his helmade experience: 'The simplicity as well as the endless possibilities of helmade convinced me from day one. To create my helmet design in 3D using my smartphone, to order it online right away and to have my helmet at home in only 3 weeks time is crazy and compared to all other opportunities to get your helmet lacquered so damned easy. The quality of the paintwork is 100% perfect.'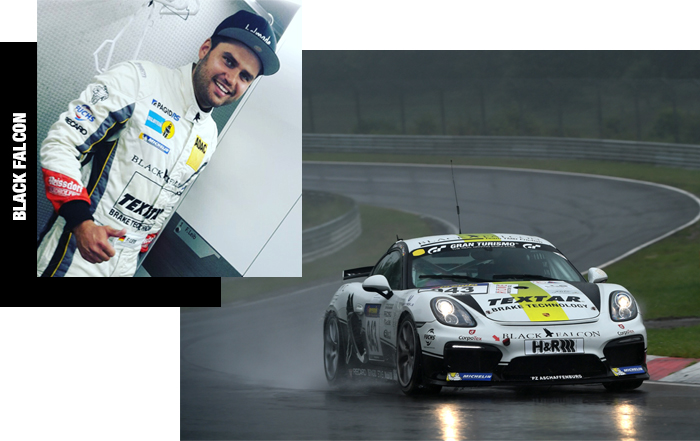 The season goes on with a big step for Fidel Leib - the move to team Black Falcon, one of THE teams in professional motorsports. Already for VLN 4 Fidel could get familiar with his new car and the new team. Together with his driver colleagues Stefan Karg und Runar Vatne he finished his first race in the GT4 Clubsport class on P6.
He is happy with the result of his first race. The conditions were not easy at all - wet race with heavy rain. The race was close to be stopped a couple of times but it did not happen. At the end Fidel's main goal was to bring the car home. He could win many impressions of team Black Falcon and get to know his new car.
With Fidel we haven't just won our first driver in one of the most liked race series in Germany but also get to know a passionate racer and cool guy who truly lives his dream.