Behind the scenes of painting a motorbike helmet
Is it safe to paint a helmet? Yes, it is (if you know how to do it).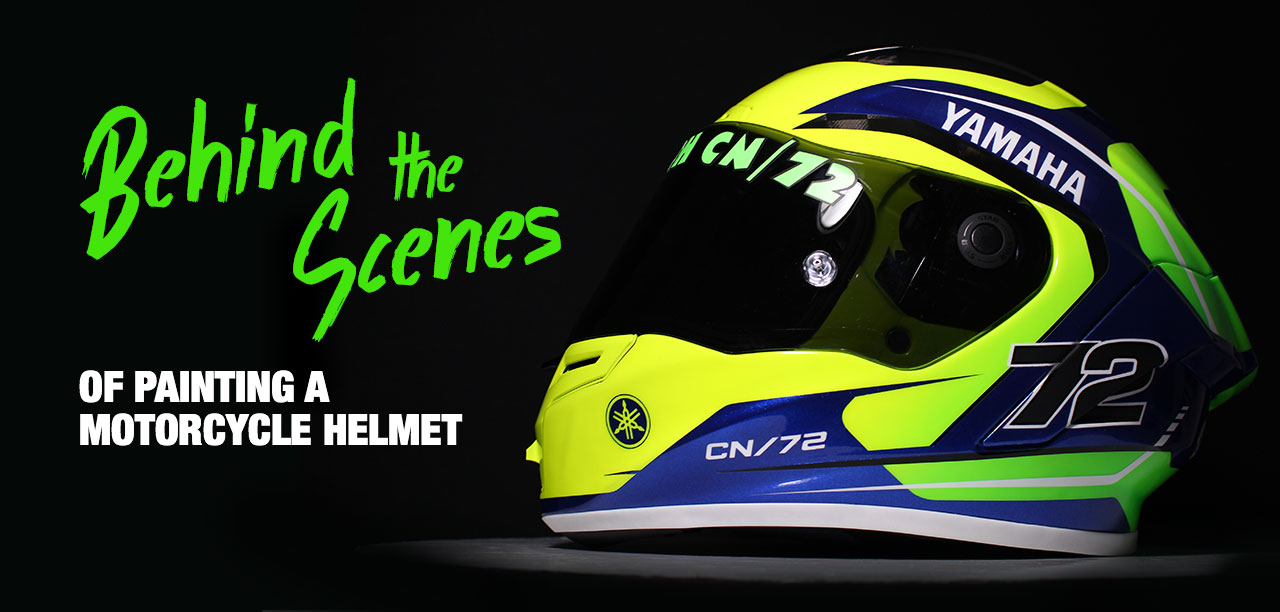 At helmade, we try to be as transparent as possible when it comes to what we do. Talking to many bikers at the motorcyle events we've been part of in 2016, it came to us that there are many mysteries about the painting of a motorcycle helmet. Most of them are simply grounded in unclarity and some of them are holdovers from the past where helmet and painting technology wasn't on the same level than it is today. As we're on a mission to make helmet design more accessible for bikers around the world, we'd like to take you on a journey of designing and painting a motorbike helmet.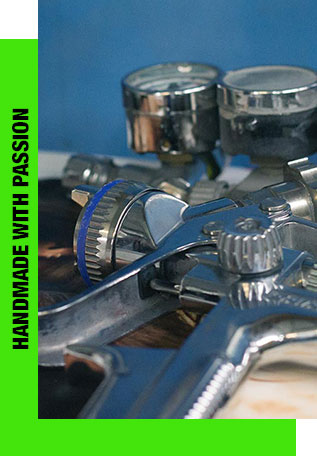 Before we dig into the production process we'd like to answer one of the most asked questions first: Is it safe to paint a motorcycle helmet? The simple answer is yes but that would be too simple. The answer of this question starts with the base helmet you want to get painted. Not all helmets can be painted and shouldn't be painted. What you can say is that most of the qualitative helmets can be painted. Most of the helmet manufaturers explicitely state if their helmets can be painteed or not. If you're not sure, we can find it out for you. The reason is not only the material of the helmet shell but also the safety related elements of a helmet which you need to know in all details as a helmet designer before you even touch the product.
helmade is about helmet design and helmets of any kind. We've build a base of productions partners who are working with helmets every single day. We're not painting other things and from time to time a helmet. This is not what we do. That way we are able to know almost all existing motorcycle helmet types and brands. If we don't know it, we let you know and we will find out if your helmet can be painted. As an authorized dealer of Arai, Bell, Stilo, Airoh, X-Lite, Premier, Bandit and many more we get access to product insights and all safety related information. To paint a helmet the helmet needs to be disassembled. Some motorcycle helmets have more than 30 pieces which need to be removed before you can work with the helmet. If you don't know the product you will damage it or you will step into the safety related features of a helmet. You got to be a product expert in addition to a very good painter. From our perspective these are the requirements for painting a motorcycle helmet and to offer the service of helmet customization.
In the past the helmet as well as the painting technology wasn't where it is today. The lacquers we're using nowadays have way less solvent in it compared to some years ago. You got to think about it that way: The helmet manufacturer constructs the helmet shell, for example out of fiberglass material oder carbon, then all helmets get painted in the factory. The lacquer hits the raw material of the helmet shell. In a second step, after decals are added or even if the helmet comes in plain white base color, it gets another layer of varnish. What we do as a helmet designer, we sand this layer of varnish and then we work onto these two layers which the helmet manufacturer added onto the helmet shell. Our paint will not even touch the raw material of the helmet shell. That clearly answers the question: Can the solvent in the lacquer damage the helmet shell? Definitely not. Of course it is important to use high-qualitative lacquers which we do for all our colors including effect lacquers as neon, flake or metallic.
1. Preparing
A big part of the process is the preparation phase which sets the base for a perfect painting of an individual helmet design. First the helmet has to be disassembled considering all safety-relevant elements of the product. It is crucial to know in all details which parts of the helmet can be taken off and how this works, not to damage the helmet or to step into the safety aspects. As a helmet painter you got to work around and with the product.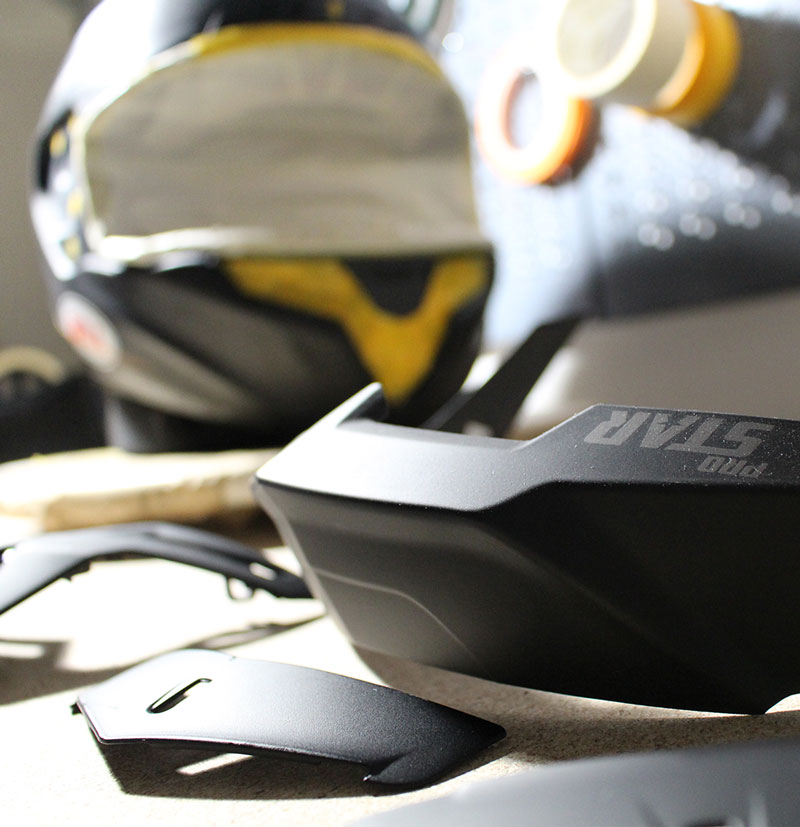 2. Masking
Each helmet we're painting becomes our 'baby' during the production process before it gets handed-over to our customers. After carefully sanding back the helmet surface including every nook and corner, all design elements of the helmet design are masked by hand, accurate to a millimeter. This is where some magic happens. We are using qualitative tape to ensure that we reach the best possible result. The rest is long-years of experience, hands-on work and an obsession for details.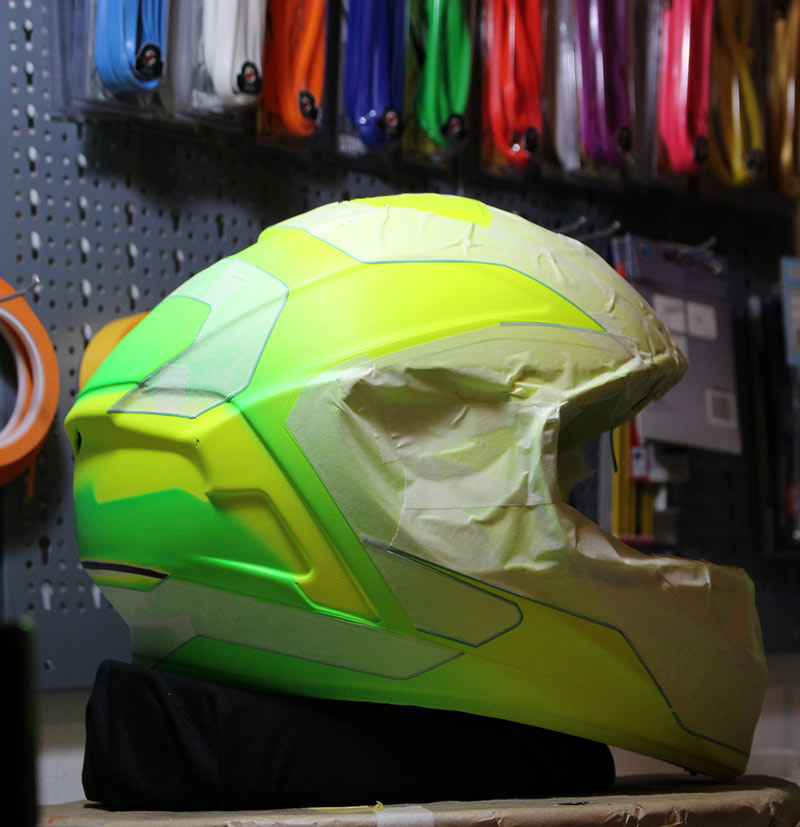 3. Painting
Each color is lacquered separately. In between painting the different color layers, each lacquer requires a perfectly timed drying time. Painting gradients and effects need experience and time. The helmet designer needs to put in all his passion when hand-painting each layer of the design. It is important to use qualitative lacquers, especially for effect colors. This makes a difference in the final paintwork.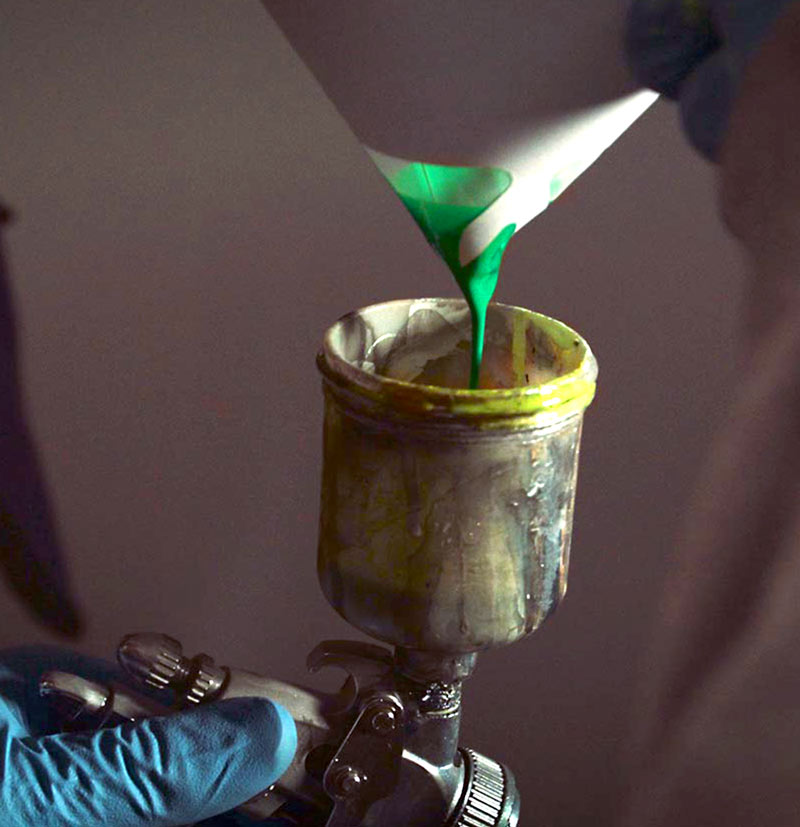 4. Finishing
A special moment is the final 'unwrapping'. Carefully all tapes have to be pulled down, without damaging the paintwork. Before the helmet gets a high quality glossy or matte finish, additional design elements as for example a signature or shadings are painted onto the helmet. It is possible to combine decals with the paintwork, for example for sponsor logos or individual design elements. The right amount of varnish and how to bring it onto the helmet is another key factor which decides about a good or bad paintwork.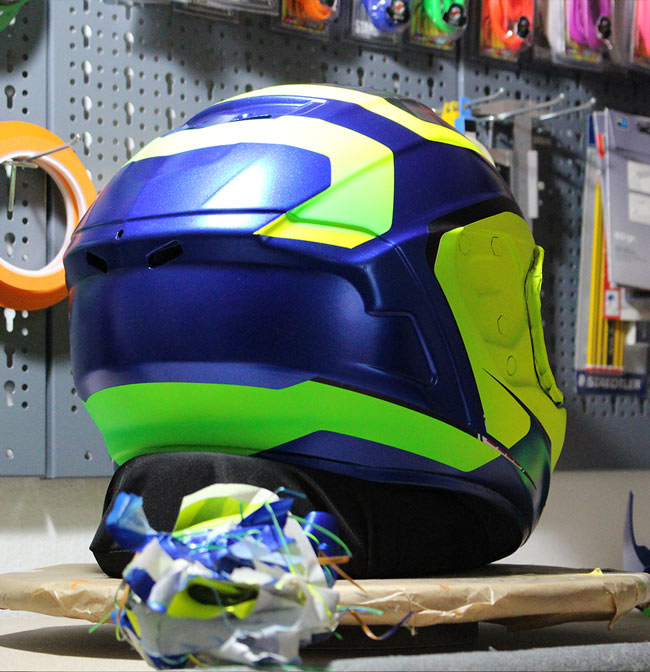 5. Assembling
After the lacquering had enough time to dry out completely and after a final quality check, the helmet gets assembled. A tricky part are the trims which need to be glued back on or replaced with colored ones. This work takes time and allows not a single mistake. With the visor in place, the beauty is ready to be shipped to the customer.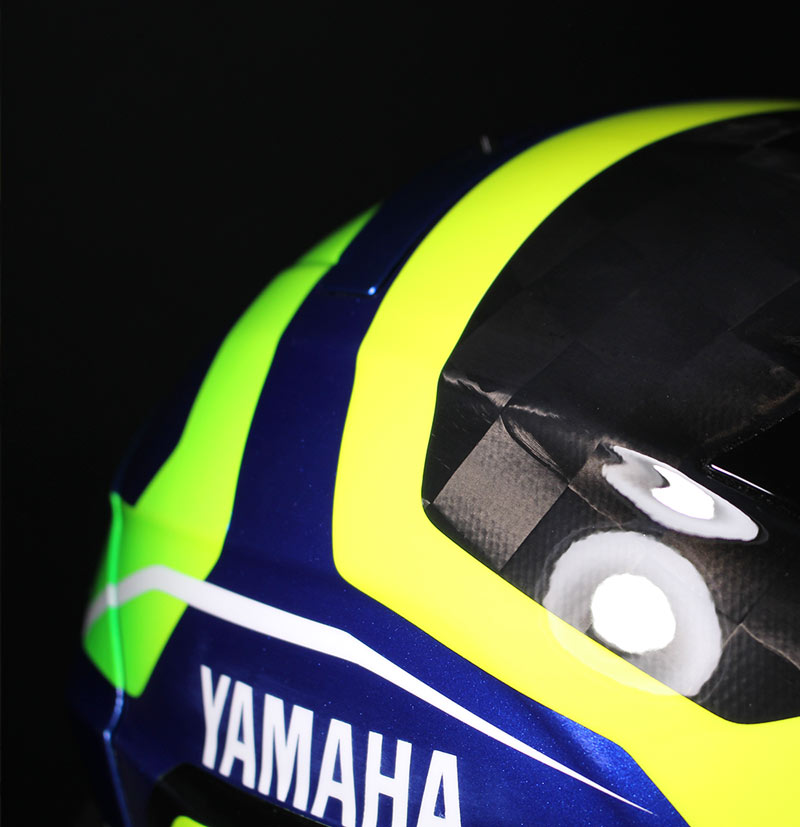 Painting a helmet requires a high qualitative product and unique handcrafting skills but there's even more to that. You also got to be a product expert for helmets, knowing all safety related aspects of a helmet. If you still have questions, unclarities or need our advice, please don't hesitate to contact us at service@helmade.com . We're more than happy to help.
ABOUT OUR HELMET DESIGNERS
Our helmet designer Miki Vinola from MK Art Productions in Barcelona works with motorcycle helmets every single day and that with a huge passion. He is a trusted helmet designer of many MotoGP and TT Racing riders as well as many professional racers in various two-wheels racing series around the world. Together with him we have brought in the needed competence and skills to paint any motorcyle helmet on this planet.
Paul Seliger from Five Star Designs Germany has put his stamp on the world of car racing and karting. He has designed and painted helmets for the big names of Formula racing, DTM and many other international car racing series. He knows all safety aspects of a helmet and has a profession for helmet painting since years. We're proud to have him, his skills and expertise, in our team.